FUE
Everybody craves a full and natural head of hair, but for many of us there comes a point in life where hair loss becomes an aesthetic issue. However, this does not have to be a problem, at least not anymore. Our FUE hair transplantation offers a solution to hair loss with permanent results and without leaving any visible scars.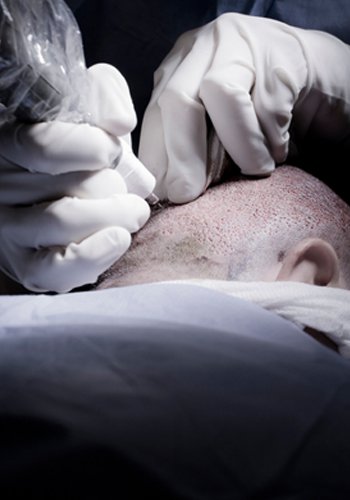 These are the benefits of FUE hair transplant procedure:

Permanent results of natural hair growth
Painless and without any scars
Quick recovery
Regrowth rate of 95% and higher
What is FUE hair transplant?
FUE, or follicular unit extraction, is a surgical hair transplant technique which uses advanced microsurgical techniques to restore natural hair growth. Our experienced physician extracts individual follicular units and artistically restores them to the targeted area, in order to restore hair growth. Thanks to our unique microsurgical method, the FUE hair transplant does not produce any visible scars.
For this minimally invasive treatment, our experts use nothing but sub 1 mm instruments (so no scalpels). This means the healing is much faster than any other hair transplantation method available today. The entire treatment is carried out under a local anesthetic, which makes the procedure completely painless. You can return home right after the treatment.
Our team consists out of experienced full-time hair restoration professionals only. Therefore we can guarantee consistent and natural looking results with regrowth rates of 95% and higher.